Welcome to the World of Chemistry
Academy of Chemistry Teachers (ACT), a fraternity of Chemistry Teachers of the colleges of Kerala, has been actively engaged in promoting the spirit and relevance of chemistry among students and assisting teachers in updating their knowledge of emerging frontiers of the discipline, since its inception in 1991.

The Academy organizes symposia, seminars and workshops on various emerging areas in chemistry. ACT also enthusiastically involves in formulating and revising curriculum content of post graduate and undergraduate programmes.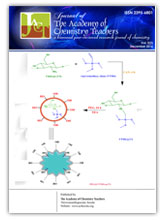 JACT
Journal of the Academy of Chemistry Teachers (JACT) is a biannual peer-reviewed research journal of Chemistry published by the Academy of Chemistry Teachers (ACT), Thiruvananthapuram. It is issued half-yearly (Jan-June & July-Dec).) June 2017 Vol:3(1) | Journal page
Downloads
OSDD - M.Sc. OUTREACH PROGRAM AT NIIST,TRIVANDRUM
Invitation for OSDD outreach Program 2013 | CSIR has launched Chemistry Outreach Program | Application form

The Model questions & Scheme of Grading for Lab Course II examination for B.Sc FDP Chemistry (Core) S5 - Volumetric analysis and Physical Chemistry experiments.
» Components for End Semester Evaluation of Inorganic Quantitative Analysis
» Practical Physical Question & Scheme Draft 2012 Chemistry Core

MODEL LAB COURSE QUESTIONS 2012 | MODEL SCHEME LAB COURSE 2012 | MODEL SCORE SHEET CHEMISTRY 2012

ACT Workshop on B.Sc Model Projects
Minor Projects on Water and Soil Analysis | Organic Chemistry |
Student Projects for B.Sc. Chemistry
Links
Chemistry | Organic Chemistry | Inorganic Chemistry | Physical Chemistry
Research papers | Biochemistry | Educational Opportunities
Career Opportunities | Jobs in Chemistry | Biographies of Famous Chemists
Prominent Universities in Kerala | Membership Form
Reports
Annual Report 2011-12 | Annual Report 2010-11 | Annual Report 2009-10
News & Events





Fatima Mata National College, Kollam
State Level Seminar on Advanced Spectroscopic Techniques
on 22.11.2017. Programme details


Workshop on PG Practicals (Spectral Analysis in Inorganic Chemistry)
for MSc Analytical Chemistry at SN College Kollam.
on 27th August 2016 (Saturday), 9.30 am

Mannam Memorial NSS College Kottiyam, Kollam organizing One day State level Seminar on
New Frontiers in Interdisciplinary Research (NFIR 2016) sponsored by Kerala State Council for Science Technology and Environment
in Association with Academy of Chemistry Teachers (ACT) on Date 15th March 2016
Programme details


UGC Sponsored National Seminar on
Advanced analytical Techniques
March 9-11, 2016
Programme details

The seminar series at M G College in association with ACT
Inauguration on 25th January 2016
by Dr George Thomas K, Dean Faculty of Science IISER, Thiruvananthapuram.
Brochure | Programme chart

State level seminar on Solar Photochemistry- Fundamentals and applications
Organised by FMN College Kollam, sponsored by KSCSTE in association with ACT.
Programme details


Past Events


Call Us
The General Secretary
Dr Manohar D Mullassery
Department of Chemistry,
Fatima Mata National College, Kollam

Tel: 9447110857
Email: mdmullassery@gmail.com